Gwda
Trip duration: 7-8 days (for the whole trail length). Difficulty: (2)



River length 145 km / 136 km trail length
The Gwda is the rightmost and largest tributary of the Notec, which flows on the border of the Krajenski and Walecki Lakelands. The river begins to run as Bielska Struga, near the village of Biale, southwest of Bialy Bor, and in Ujscie flows into the Notec. Drezno is the highest point from where you can start kayaking or canoeing. The trail is full of surprises and charm. There are rapid flows, flood plains and large and small lakes.
You can find a huge variety of landscapes and nature – fields and meadows, flood plains, pine forests with towering wooded hills, often fanciful shore line shapes, slopes and numerous branches of the river. The forest along the river banks is called the Forest of Gwda. Canoeists and kayakers will encounter dams and small hydroelectric power plant reservoirs. The entire length of the river has 13 permanent carryovers.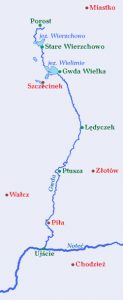 Proposed daily runoff distances on the Gwda river:
Drezno – Spore – 13 km
Spore – Gwda Wielka – 13 km
Gwda Wielka – Lubnica – 15 km
Lubnica – Ledyczek – 15 km
Ledyczek – Ptusza -18 km
Ptusza – Krepsko – 16 km
Krepsko – Dobrzyca – 13 km
Distances from Swornegacie (for kayak and canoe delivery):
Drezno – 70 km
Spore – 75 km
Gwda Wielka – 55 km
Lubnica – 55 km
Ledyczek – 65 km
Jastrowie – 83 km
Ptusza – 90 km
Plytnica – 95 km
Krepsko – 100 km
Dobrzyca – 105 km
Pila – 115 km
Ujscie – 130 km
---