Słupia
Trip duration: 5-6 days (for the whole trail length). Difficulty: (2)



River length – 141 km / 126 km trail length
The Slupia's sources are at an altitude of 178 m above sea level, near Sierakowska Huta, in the Kashubian Lake District, and the rivers runs to the Baltic Sea in Ustka. The Słupia flows through several lakes. Width: 7 metres in the upper part of the river to 40 at the mouth.
From Lake Gowidlinskie to the mouth there is a 126 km kajak / canoe route, including the 62 km stretch from Suleczyno to Galaznia Mala, which has the appearance of a mountain river. Much of the river flows through the 'Valley Słupia' Nature Park so you can enjoy unique species of plants and animals. The park has three of the four power-plants which are the so-called Energy System Slupia. Due to its location in the landscape park tourism infrastructure is underdeveloped, so you can only camp in specially prepared campsites for canoeists and kayakers.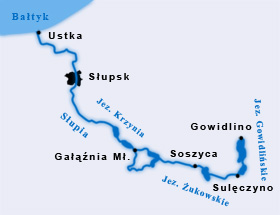 Proposed daily runoff distances on the Slupia river:
Gowidlino – Suleczyno – 12 km
Suleczyno – Soszyca – 17 km
Soszyca – Galezow (Lake Glebokie) – 17 km (kayak carryover 7 km – route unavailable)
Galezow – Krzynia – 25 km
Krzynia – Slupsk – 25 km
Slupsk – Ustka – 30 km
Distances from Swornegacie (for kayak and canoe delivery):
Gowidlino – 80 km
Sulęczyno – 70 km
Soszyca – 58 km
Gołębia Góra – 55 km
Gałęźnia Mała – 70 km
Dębnica Kaszubska – Łysomiczki – 80 km
Słupsk – 100 km
Ustka – 115 km
---