Wda
Trip duration: 8 days (for the whole trail length). Difficulty: (1)


River length 239 km / 195 km trail length
The Wda, also known as the Czarna Woda, is the largest river of the Wdzydze Landscape Park. It flows through the Charzykowy and Tuchola Plains to flow into the Vistula in Swiecie.
The Wda is a lowland river with nature. The river bed is sandy, with numerous boulders. The river meanders widely from one side of the valley to the other. Due to the numerous meanders, often high and in places precipitous, with wooded banks and gorges, it is one of the most attractive canoe / kayak routes in the country.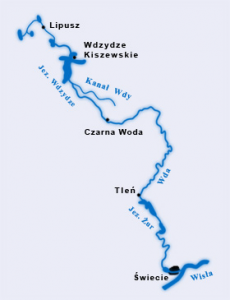 Proposed daily runoff distances on the Wda river:
Lipusz – Wdzydze Kiszewskie – 25km
Wdzydze Kiszewskie – Miedzno – 23km
Miedzno – Zimne Zdroje – 19km
Zimne Zdroje – Młynki – 24km
Młynki – Leśnictwo Żurawki 23km
Żurawki – Błędno – 13km
Błędno – Tleń – 20km
Distances from Swornegacie (for kayak and canoe delivery):
Lipusz – 45 km
Loryniec – 47 km
Wdzydze Kiszewskie – 60 km
Wdzydze Tucholskie – 42 km
Borsk – 40 km
Wojtal – 50 km
Czarna Woda – 50 km
Czubek – 60 km
Osowo Leśne – 80 km
Młynki – 80 km
Wda – 90 km
Kasparus – 75 km
Błędno – 70 km
Tleń – 80 km
---