Łupawa
Trip duration: 6 days (for the whole trail length). Difficulty: (4)





River length 98.6 km / 91 km trail length
The Lupawa's source is Lake Jasien, in 'Valley of  Slupia' nature park. The river flows into the Baltic Sea in Rowy.
In technical terms the Lupawa is considered to be one of the most difficult among the popular canoe or kayak routes in northern Poland. The Lupawa rafting adventure is worth recommending for advanced kayakers who want to test their skills in a challenging and varying trail. It requires avoiding hundreds of boulders in the river bed, overcoming dozens of dams of fallen trees, several carryovers of equipment on the hydroelectric dams, and fighting the wind and high waves on the lake. The efforts of those who choose to respond to these challenges will be rewarded by picturesque Pomerania landscapes and an unforgettable, tour-ending, open sea exit and a landing on the Baltic Sea coast.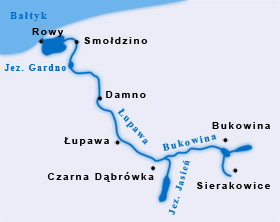 Proposed daily runoff distances on the Lupawa river:
Jasień – Kozin – 12,5km
Kozin – Łupawa – 18km
Łupawa – Łebień – 14km
Łebień – Drzeżewo – 16km
Drzeżewo – Żelkowo – 11km
Żelkowo – Gardna Wielka – 14km
Distances from Swornegacie (for kayak and canoe delivery):
Jasień – 65 km
Łupawsko – 60 km
Kozin – 75 km
Łupawa – 83 km
Łebień – 97 km
Damno – 100 km
Żelkowo – 115 km
Smołdzino – 128 km
Gardna – 120 km
Rowy – 125 km 
---