Wieprza
Trip duration: 5 days (for the whole trail length). Difficulty: (2)



River length 130 km / 115 km trail length
The Wieprza originates from the small Lake Biale in the Bytow Lakeland, then flows through the Upland Plains of Polanowska and Slupska, and finishes in the Baltic Sea in Darlowko.
The river flows through forests, enchanting backwaters and oxbow lakes. On the Wieprza it is very common to see wild animals and rare birds. Kayaking or canoeing the river is especially recommended to those who like peace and quiet. The uniqueness of this river is the fact that the route lacks any prepared places for camping.
The Wieprza trail is quite difficult and cumbersome in the upper and middle reaches. Here you will encounter a number of fallen trees. Strong currents will easily carry kayaks and water mills are quite common. In these sections the river Wieprza is not for beginners. Only below Korzybie does the Wieprza become an easy and convenient route, even for mass trips.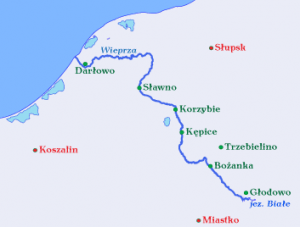 Proposed daily runoff distances on the Wieprza river:
Trzebielino – Broczyna – 18 km
Broczyna – Kępice – 20 km
Kępice – Sławno – 24 km
Sławno – Mazów – 22 km
Mazów – Darłowo – 27 km
Distances from Swornegacie (for kayak and canoe delivery):
Trzebielino – 80 km
Broczyna – 75 km
Kępice – 90 km
Sławno – 110 km
Mazów – 125 km
Darłowo – 135 km
---