GoKajaki – kayak and canoe trips in Poland, an unforgettable experience
Kayak and canoe trips
mean contact with nature, camp fires, relaxation…
Try kayaking or canoeing in Poland, you will be amazed and delighted with what you experience and it will be an incredible adventure. Scenic areas of Kashubia, Pomerania and parts of Greater Poland are ideal for kayak and canoe trips.
We organise:
– Trips lasting a few hours
– jednodniowe
– One day trips
– Weekend trips
– Long journeys
We offer kayak and canoe trips along the following rivers:
– Easy trails available for the inexperienced and families – Brda, Zbrzyca, Chocina, Wda, Gwda, Wielki Kanał Brdy
– Trails requiring some experience – Wieprza, Słupia, Wierzyca, Drawa, Piława, Radew
– Difficult trails only for experienced kayakers and/or canoeists – Łupawa, Łeba, Radunia, Parsęta.
And other trails available upon request.
Equipment
Your comfort, security and a good selection of route is the basis of a good runoff. Our kayaks and canoes are:
Wavesport Vista – double polyethylene kayak with an open cockpit – possibility of adding a child seat for a max 5-6 year olds.

Perception Horizon – versatile twin-cockpit tandem kayak is perfect for either short trips or multi-day expeditions. Broaden your horizons…

Perception Carolina 14 – Single polyethylene kayak with a luggage hatch. This kayak is very stable, making it ideal for rivers and lakes.

Dagger Blackwater 10.5 – is a quick recreational kayak featuring skeg, stern hatch, thigh braces and more. Excellent for rivers, lakes, reservoirs, estuaries.

Canoe Rainbow Apache 16 – three or four person canoe made of polyethylene. Provides a good time during a trip for the whole family.

Our kayaks are durable, unsinkable, comfortable and have excellent manoeuvrability. Ideally suited for a few hours kayaking as well as on long trips because of its payload. A very capacious canoe which can accommodate a four person family. You can find out more in equipment .
If you are not sure whether a given route will be suitable for you, please contact us. We will advise you on the best places to start and end your trip. We can also help determine the daily distances, so that the entire group, according to age and experience, will remember the trip as great fun. We also offer the opportunity to hire a guide and rescuer on your trip.
For first time paddlers we advise to visit the following webpage: http://kayakpaddling.net/ where you can gain "technical" information about paddling. Along with kayaks and canoes you get paddles (asymmetrical or straight) and safety equipment (we have a wide range of buoyancy aids and life jackets for children and adults). Additionally, you can get waterproof bags and barrels, spray decks, kayak or canoe dollies, cases for mobile phones and double or triple tents.
Transport – we deliver and pick up kayaks from the start and the end of the tour. We take drivers to the car park, where their cars were parked. If there is a need, we will transport all the participants (e.g. to and from hotels). In addition, we recommend the use of baggage carriage along the trail so you can travel light in a kayak or canoe. We also organise a break in the Indian lodge, accommodation and events for groups.
We cooperate with local restaurants and can help to supply catering services while on the trip. We can provide transport from Germany, Belgium, the Netherlands, Austria and other countries to Poland and back.
If the land route is too long we will be waiting at the airport. The nearest to us are Gdansk and Bydgoszcz. If you decide to come in your own car we provide a free, fenced car park.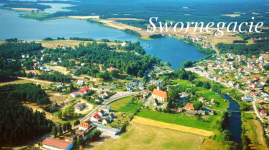 Swornegacie We are based in Swornegacie – located in the Chojnice Municipality in the province of Pomerania. Due to our location we can offer the best prices for transport and also the widest variety of kayak and canoe trails in northern Poland. The beautiful landscape, which is cris-crossed by rivers and lakes provides excellent conditions for canoe tourism. Widely developed accommodation and restaurants operating near the "Bory Tucholskie"National Park create the perfect conditions for rest from daily routine. The village boasts a Kashubian Folk Handicraft House, where you can buy souvenirs from the Kashubian area. Next to the Craft House there is a bread oven – in the summer you can buy a loaf of fresh bread, baked according to traditional recipes.
A must have on a kayak / canoe trip:
– tent – preferably a small igloo
– sleeping bag (which is suitable for the season)
– foam mattress or mat
– camping clothing (including fleece and rain jacket)
– shoes (sandals for the kayak, shoes for camping)
– water container
– mosquito sprays
– first aid kit
– sun protection accessories (sunscreen, hat, sunglasses)
– rubbish bags
– water-proof packaging, especially for keys, phone, documents, money (we offer unsinkable waterproof barrels and bags)
– maps, guides – you will receive complimentary copies from us
– food and drink
– cash – it could be difficult to find cash machines on the trails
– toiletries
Optionally you can also take:
– camping stove
– matches or lighters
– canteen, cup, cutlery
– shovel
– small axe
– torch
– swimsuit
– musical instruments
– ball, cards, books
– camera
---