Piława
Trip duration: 6 days (for the whole trail length). Difficulty: (1)

River length 80 km / 80 km trail length
This river is the longest tributary of the Gwda. It flows out of Lake Komorze in the Drawski Lakeland, and in Dobrzyca (near Pila) connects to the Gwda.
The Pilawa trail is a very picturesque and interesting tour. The river is suitable for canoes and kayaks along its entire length. The trail is classified as easy.
In its initial stages the Pilawa flows through a sequence of large and small lakes, mostly surrounded by forests. Sections of the river connecting the lakes are short and safe for the passage of a canoe and kayak.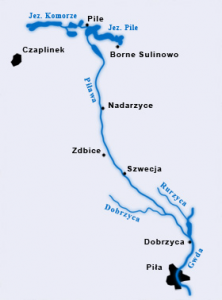 Proposed daily runoff distances on the Pilawa river:
Sikory – Łubowo 11 km
Łubowo – Liszkowo 12 km
Liszkowo – Zalewy Nadarzyckie 15 km
Zalewy Nadarzyckie – Zdbice 14 km
Zdbice – Głowaczewo 13 km
Głowaczewo – Stanica Krępsko 15 km
Distances from Swornegacie (for kayak and canoe delivery):
Sikory – 105 km
Łubowo – 100 km
Borne Sulinowo – 90 km
Nadarzyce – 100 km
Zdbice – 110 km
Szwecja – 100 km
Głowaczewo – 110 km
Czechyń – 113 km
Dobrzyca – 105 km 
---